Applies to: DH81NK/DH41NK/DM21O/DM31O/DL81A/DH81S/DH81NG/DN81NB/DM41G/DN41CJ/DN81BJ/DN61EC/DG81W/DG61X/DG41T/DT81DQ/DT41DC/DT61ER/DG41BE/DG81BE
The instructions below show how to back up videos to external storage devices.
Step 1. Plug your external USB drive into the USB port of your DVR.
Step 2. Go to Main Menu -> Record -> Backup, then select your USB drive.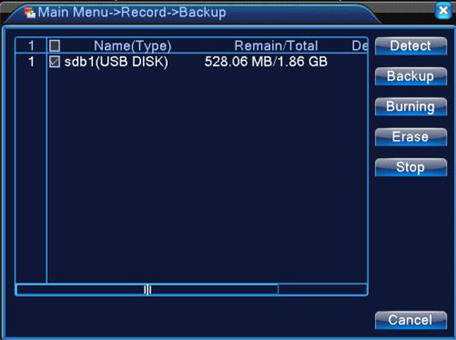 Step 3. Click Backup, and enter the backup interface. Select video files you want to back up according to the type, channel and start time. Then add the selected files, and select Backup Format. Click Start in the end.
Note: AVI is highly recommended for backup format. For AVI videos can be played on most players. While an H.264 player needs to be installed for H.264 videos.