Applies to:
DT41Y/DT61Y/DT81Y/DN41R/DN61R/DN81R/DT41GB/DT81GB/DT61GB/DT41GB/DT81GB/DT41DB/DW41JD/DW81KD/DW61LD/DT81DP//N48PI/N44PI/N46PI/N44PAM/N48PAW/N46PCK/N88PCH/N48PBB
Purpose: If you do not want to hear the beep sound when there is an exception or motion detection, please refer to this instruction to stop the beep sound.
Steps:
1. Please login to the system and go to go to Configuration---Exception.
2. On this page, you could select the exception type of system and disable the Audible warning.
For example, if you don't want to hear the beeping sound of the system when the hard drive is full, please select "HDD Full" and don't tick on the "Audible Warning" below it.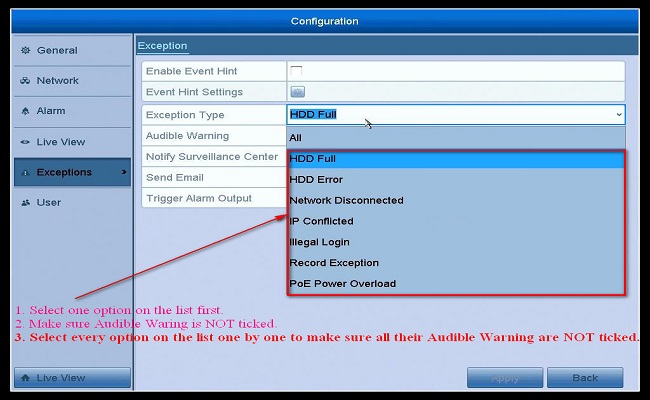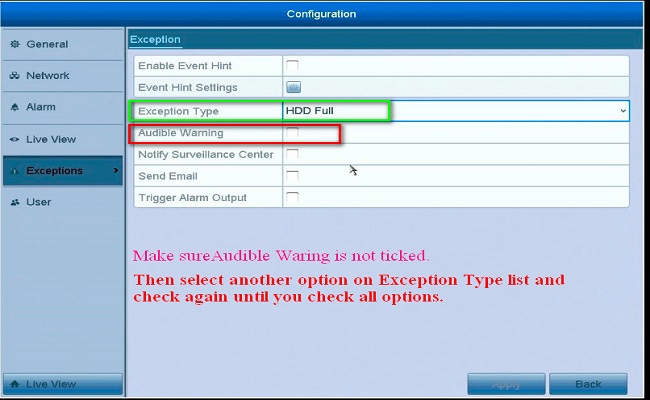 3. You could also go to Menu--Camera--Motion to disable the beep for motion detection.