Applies to: N44WBF
Purpose: This instruction is to help you connect the small base station to your Annke sight app.
Steps:
1. A. Please confirm that your mobile phone is connected to the network.
2. Search for Annke Sight from Google Play store or App Store and install it on your phone.


3. Power on the base station and the wireless cameras. Please make sure the cameras have been paired with the station (You will see the channel lights on the station will turn on and stay in solid green).

4. Connnect the base station to your router via ethernet cable. The network indicator light on the station will turn on and stay in solid green.

5. Link the base station with the phone app.
A: Please run the app and Register an account first.



B: Please input your phone number or email address to complete the registration.



C: Afther log in the account, please touch on the + icon in the upper right corner, then click Scan



E: Scan the QR code attached to the base station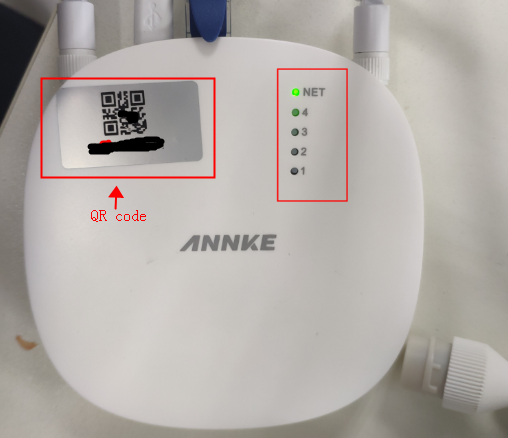 F: Enter the password of the device (no default password, leave the box empty and go ahead), click Save in the upper right corner to confirm.



G: Touch the added device in the app, now you can watch the live view from the cameras.