Applies to:
DT41Y/DT61Y/DT81Y/DN41R/DN61R/DN81R/DT41GB/DT81GB/DT61GB/DT41DB/DT81DB/DT61EQ/DW41JD/DW81KD/DW61LD/DT81DP/N48PI/N44PI/N46PI/N44PAM/N48PAW/N46PCK/N88PCH/N441Y/N481Y
Purpose:
The record files can be back up to various devices, such as USB devices (USB flash drives, USB HDDs, USB writer), SATA writer and e-SATA HDD.
Backup using USB flash drives and USB HDDs
Steps:
1. Enter Export interface. Menu>Export>Normal
2. Select the cameras to search.
3. Set the search condition and click the Search button to enter the search result interface.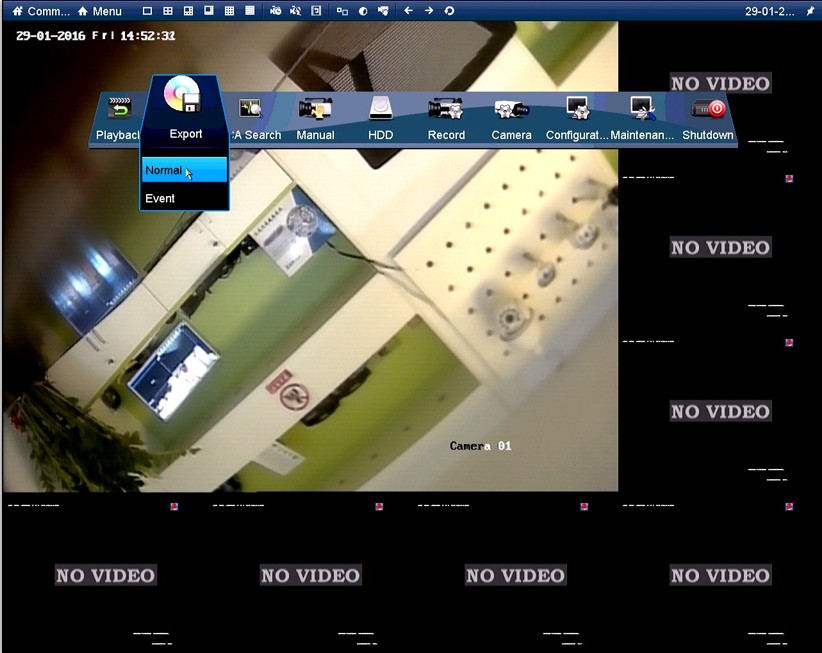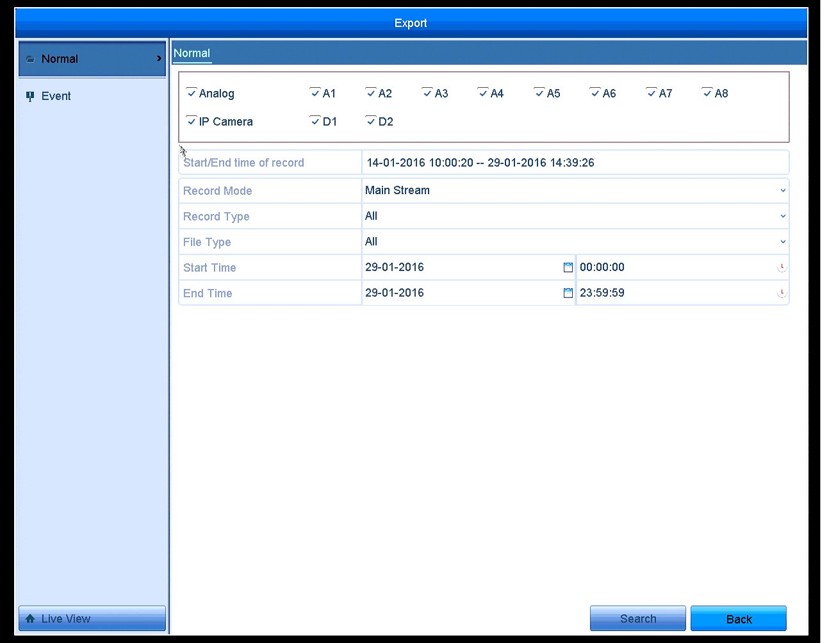 Normal Video Search for Backup
4. The matched video files are displayed in Chart or List display mode.
Click to play the record file if you want to check it.
Check the checkbox before the video files you want to back up.
The size of the currently selected files is displayed in the lower-left corner of the window.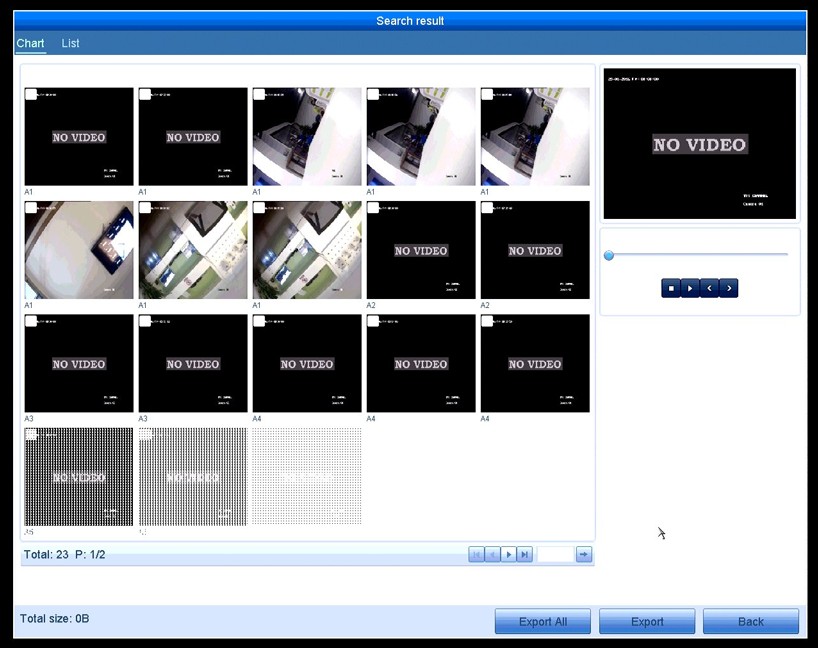 Result of Normal Video Search for Backup
5. Select video files from the Chart or List to export, and click the button Export to enter the Export interface.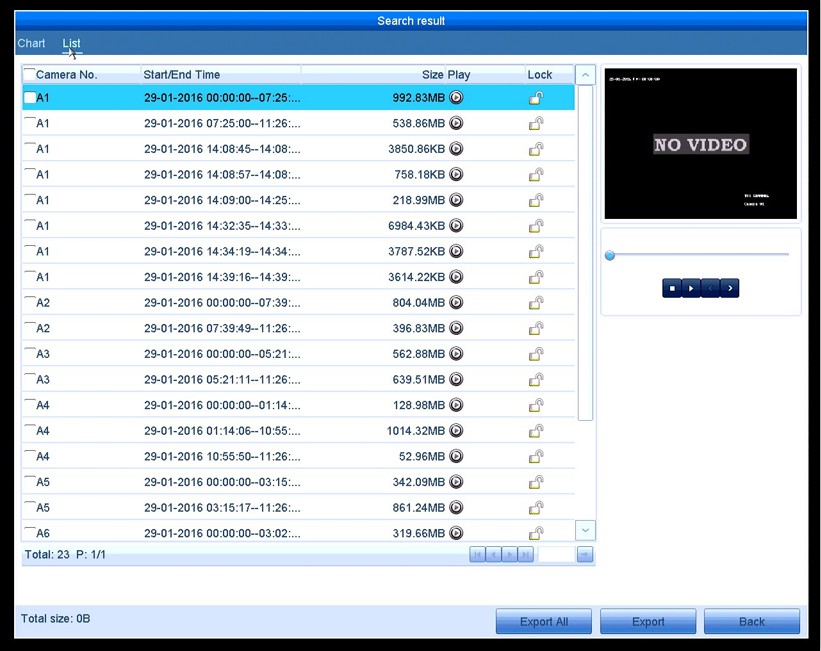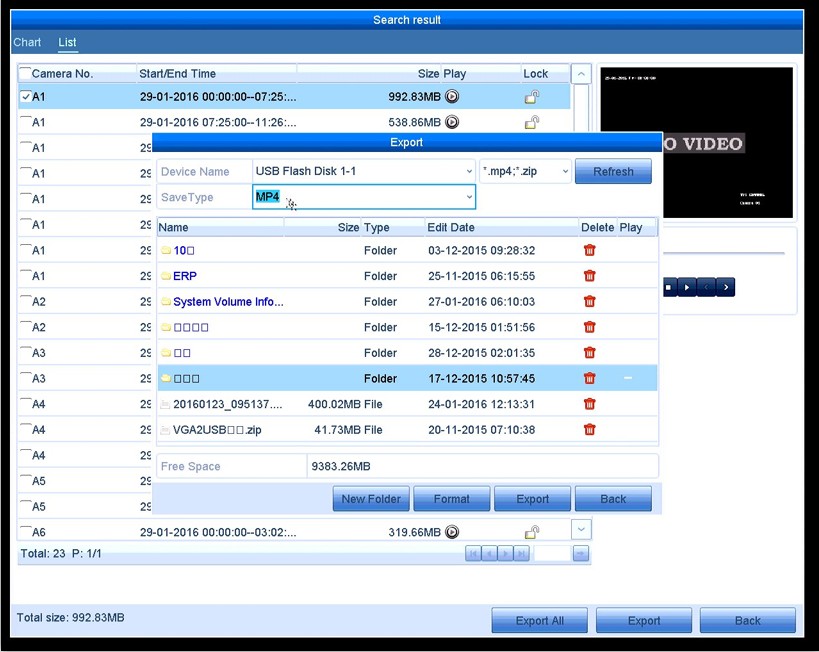 Export by Normal Video Search using USB Flash Drive
You can also click Export All to select all the video files for backup and enter the Export interface.
6. Select the backup device from the drop-down list and you can also select the file format to filter the files existing in the backup device.
7. Select the save type to MP4 or AVI.
8. Click the button Export on the Export interface to start the backup process. On the pop-up message box, select to export the video files or the player to the backup device. Click OK to confirm.
9. A prompt message will pop up after the backup process is complete. Click OK to confirm.
NOTE: The backup of video files using USB writer or SATA writer has the same operating instructions. Please refer to steps described above.