Applies to: N48PI/N44PI/N46PI/N44PAM/N48PAW/N46PCK/N88PCH
Purpose: Playback video files recorded in specified time duration. Multi-channel simultaneous playback and channel switch are supported.
Steps:
Enter playback interface: Menu > Playback > Normal
Check the checkbox of channel(s) in the channel list and then double-click to select a date on the calendar.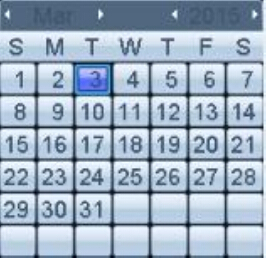 Playback Calendar
         Note:
If there are record files for that camera in that day, in the calendar, the icon for that day is displayed as .Otherwise it is displayed as .
In the Playback interface: The toolbar in the bottom of the Playback interface can be used to control the playing process, as shown below.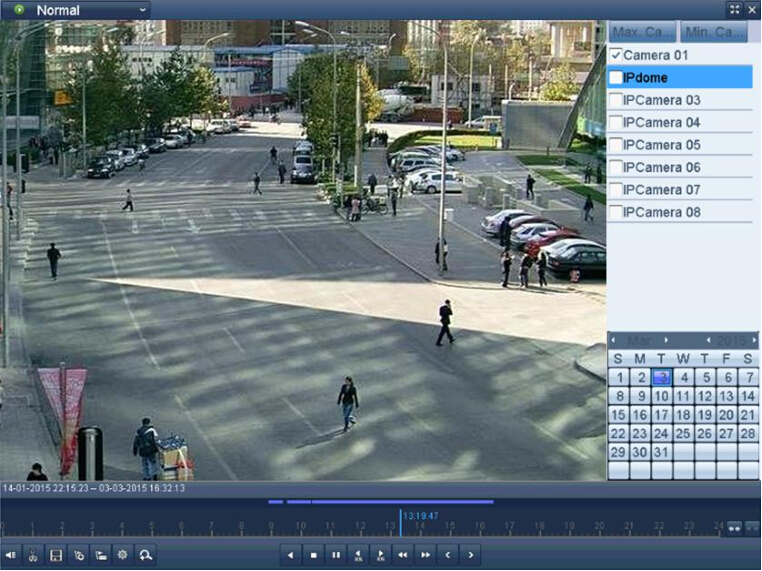 Interface of Playback by Time

Toolbar of Playback by Time
         Note:
The  indicates the start/end time of the record.
Button
Operation
Button
Operation
Button
Operation
/
Audio on/ Mute
/
Start/Stop clipping
30s forward
30s reverse
 
Add default tag
Add customized tag
 
Tag management
 
Speed down
 /

Pause reverse play/

Reverse play/

Single-frame

reverse play

 /

Pause play/ Play/

Single-frame play

 /

Scaling up/down the

time line

 
Speed up
 
Previous day
Next day
 
Full Screen
Exit
Stop
 
Digital Zoom
Save the clips
Process bar
Video type
Detailed Explanation of Playback-by-time Interface
         Note: 
Playback progress bar: use the mouse to click any point of the progress bar or drag the progress bar to locate specific frames.