Applies to: N48PI/N44PI/N46PI/N44PAM/N48PAW/N46PCK/N88PCH
Purpose: Playback record files on one or several channels searched out by restricting event type (e.g. alarm input and motion detection).

Steps: 
Enter the Playback interface. Menu > Playback > Event
Select Alarm Input, Motion or VCA as the Major Type, edit the Start time and End time.
Click Search button to get the search result information. You may refer to the right-side bar for the result.
Click  button to play back the file. 

You can click the Back button to back to the search interface.

Playback interface.

The toolbar in the bottom part of Playback interface can be used to control playing process.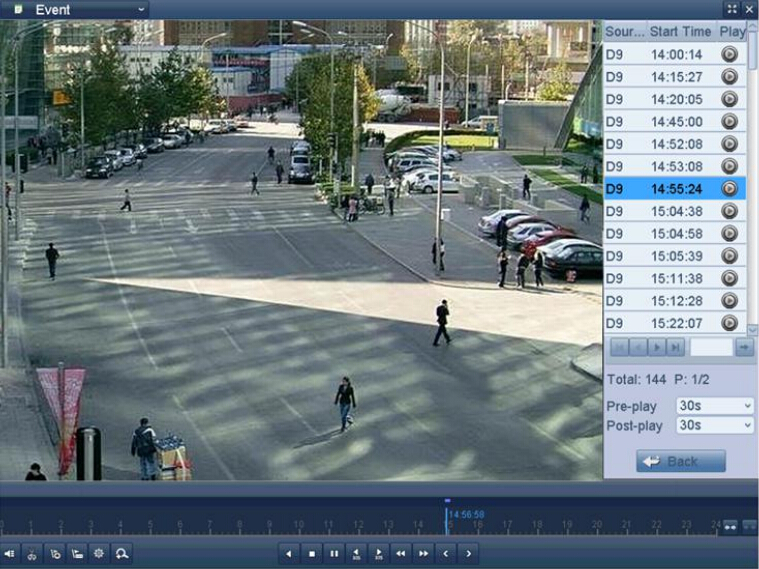 Interface of Playback by Event

Toolbar of Playback by Event
Button
Operation
Button
Operation
Button
Operation
/
Audio on/ Mute
/
Start/Stop clipping
30s forward
30s reverse
 
Add default tag
Add customized tag
 
Tag management
 
Speed down
 /

Pause reverse play/

Reverse play/

Single-frame

reverse play

 /

Pause play/ Play/

Single-frame play

 /

Scaling up/down the

time line

 
Speed up
 
Previous day
Next day
 
Full Screen
Exit
Stop
 
Digital Zoom
Save the clips
Process bar
Video type
Detailed Explanation of Playback-by-event Toolbar
         Note:
Playback progress bar: use the mouse to click any point of the progress bar or drag the progress bar to locate specific frames.
         Note for step 2:
Here we take playback by motion as the example.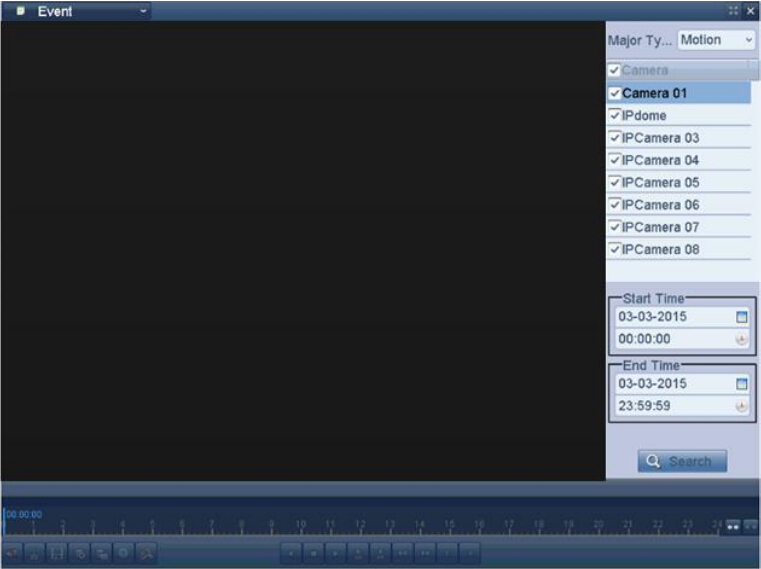 Motion Search Interface
         Note for step 4:
Pre-play and post-play can be configured.