Applies to: I41MV/I41MW/I41MX/I41MY
Note:
In some cases, your AI Floodlight Cam may lose its connection to the Wi-Fi network. The image below shows that your AI Floodlight Cam is no longer online.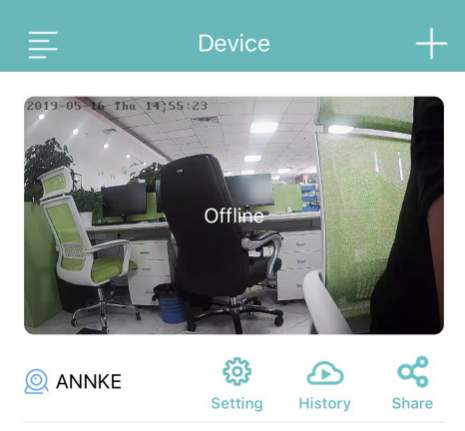 These are the most common reasons for your AI Floodlight Cam offline:
Cause 1: Network problems
Power surges can cause problems with Internet routers.
You temporarily lose power to the device.
The router cable is temporarily loose.
You have changed your Wi-Fi network password.
In most cases, your AI Floodlight Cam will automatically reconnect to the network as long as the "Offline" situation is removed, but if your device is always disconnected, then you should check for other causes.
Check that all wires are properly connected and that all indicators on the front of the router are green.
Check if another Wi-Fi device is having problems connecting to the network.
Unplug the router for 30 seconds and then reinsert it. See if your AI Floodlight Cam is automatically reconnected.
Cause 2: Floodlight problems
So far, power outages are the most common cause of network disconnection, including power surges and power connection problems. To check if your AI Floodlight Cam has lost power.
If the AI Floodlight Cam is connected to a light switch, check if the light switch is accidentally flipped. Turn the switch back to the "on" position to resume power.
Press the WIFI button on the back of the AI Floodlight Cam.
If your Floodlight is on, you should do the following:
You will hear a voice saying "Waiting for installation".
The indicator will flash.
Floodlight will light up.
Check your distribution box. There may be a blown fuse or trip, and the need to re-dial to the power distribution box switch ensures that the AI Floodlight Cam is powered.
Once it is verified that it is powered, the device has started running. The light stops blinking and the steady blue light is on, it should automatically reconnect to your Wi-Fi network.