Purpose:
If you want it to record the system video, it needs to install an HDD inside the DVR/NVR at first.
For the DVR/NVR that we on sale, some of them with HDD pre-installed, and some of them are not.
Here are the methods for judge the system you bought with or without an HDD pre-installed.
Method 1: Judging from the system label
Generally, if you bought a system with an HDD, the HDD will be preinstalled to your DVR/NVR system. And you can find the text like "1T" or "2T" on the white label. The location may follow the model number, possibly under the model number.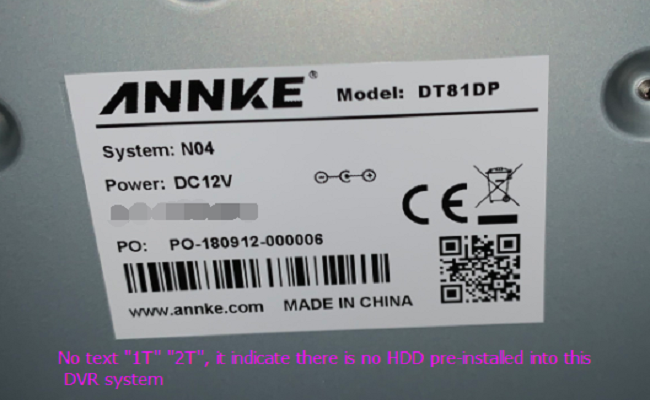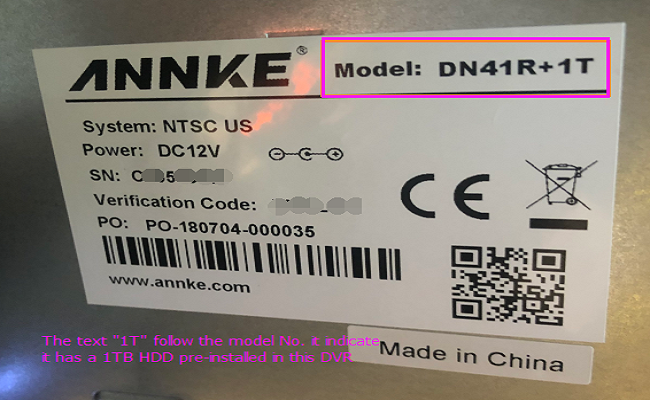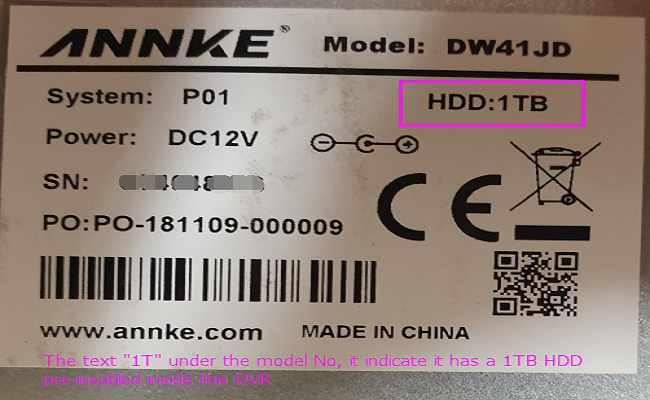 Method 2: Judging from the setting panel
If the system you bought with a pre-installed HDD, then you can go to the DNR/NVR setting panel to check the HDD's status before you set the recording. The HDD's status should be "normal". If it is unformatted, it needs to format it before using it. If the status is abnormal or empty, that indicates the HDD can't be recognized by the DVR.
If your system model number is:
DT41Y/DT61Y/DT81Y/DN41R/DN61R/DN81R/DT41GB/DT81GB/DT61GB/DW41JD/DW81KD/DW61LD/DT81DP/N48PI/N44PI/N46PI/N44PAM/N48PAW/N46PCK/N88PCH
Please go to Menu--HDD--General to check its status. It should be "Normal". Click the "Init" button to format the HDD for the first use.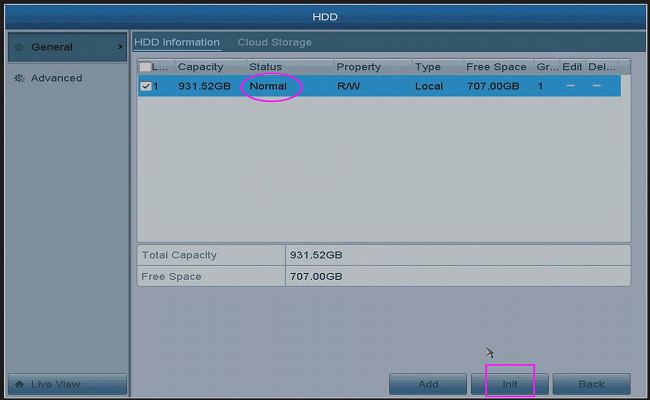 If your system model number is:
NW41V/N441H/N441K/N28WEB/N441B/N441D/N441L/N44PAN/N44PAJ/N34WDB/N34WDD/N44WEB/N44WED/N44WEC/NW41V/N44WBD/N48WHP/N48WHE
Please go to the NVR System setup--General Setup to check its status. It should be "Formatted". Click "Format" to format the HDD for the first use.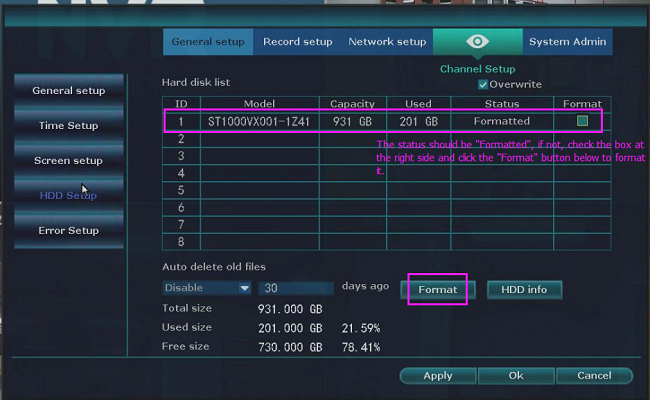 Method 3: Judging from opening the DVR/NVR's cover
If there is text "1T" "2T" on your label, while you find your HDD status is empty, we suggest you open the cover of the DVR/NVR and checking is there an HDD inside the DVR/NVR. There are two cables to connect the HDD to the DVR's motherboard. (HDD power cable and HDD data cable).
Note:
If the DVR/NVR with a hard drive you purchased is out of stock, we will send you a DVR without a disk and a separate hard disk. Please put the hard disk into the DVR before using it. We apologize for any inconvenience.
If you find the system you bought should with an HDD while you not find it separately or pre-installed inside the DVR, please contact us with your order information, and after checking we will resend the hard disk for you immediately.