Applies to: DT41Y/DT61Y/DT81Y/DN41R/DN61R/DN81R/DT41GB/DT81GB/DT61GB/DW41JD/DW81KD/DW61LD/DT81DP/N48PI/N44PI/N46PI/N44PAM/N48PAW/N46PCK/N88PCH/N48WHS
Purpose:
To remotely access the DVR/NVR system on the phone APP or computer software, the cloud network status of the DVR/NVR system must be 'Online'. If the system is 'Offline', please refer to this article to make it 'Online'.
Solution 1:
1. Make sure the DVR/NVR system is connected to the router directly by network cable.
2. Access the system menu on the monitor or TV and go to 'Configuration-->Network-->General', tick on 'Enable DHCP', then click 'Apply'.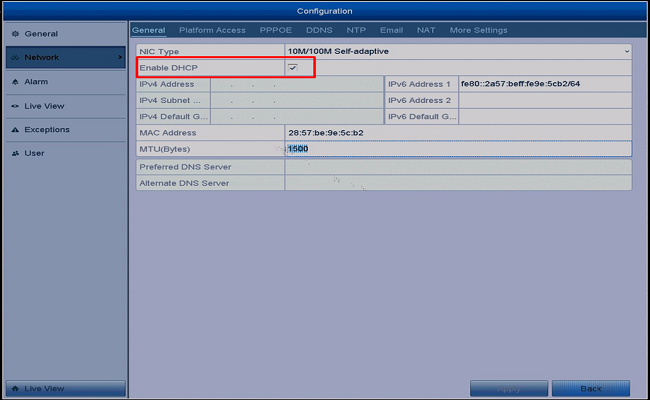 3. Go to 'Platform Access', tick on 'Enable', and make sure the "Verification Code" is set up. The verification code is created by the user, which should include letters and numbers. For example, abcd1234.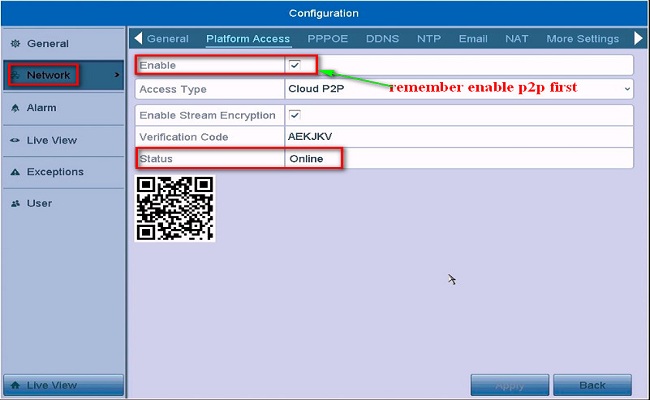 Notes:
1. In different firmware versions, the 'Access Type' has different names, such as Cloud P2P, Annke Vision, Annke Cloud.
2. Make sure the DDNS and PPPoE, NTP, NAT have been disabled. Otherwise, they will interfere with the DHCP.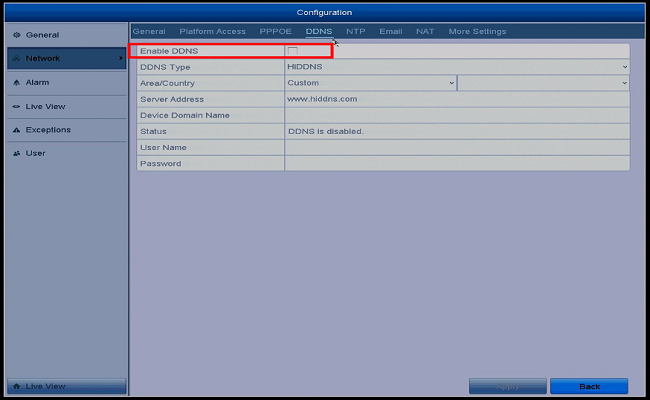 Tip: Reboot the system after checking the above network settings.
If the system is still offline, go to 'Configuration-->Network-->General' and follow the instructions in the picture below to disable DHCP, DNS DHCP. Then enter '8.8.8.8' in 'Preferred DNS server', enable 'DHCP' again. Click on 'Apply' to save the settings. After that, reboot the system and check if the system is 'online'.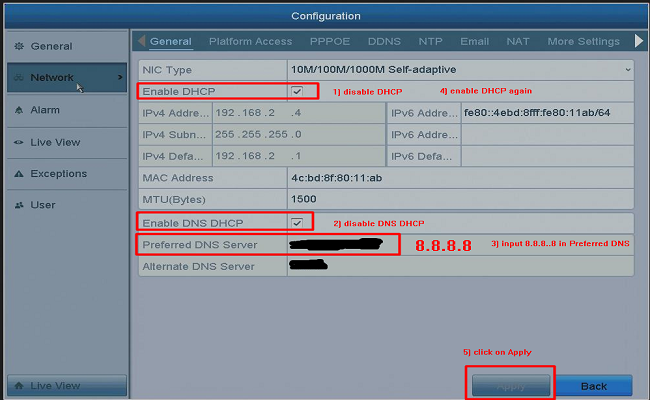 Solution 2:
Change another network cable for the system.
Solution 3:
Reset the system to factory settings.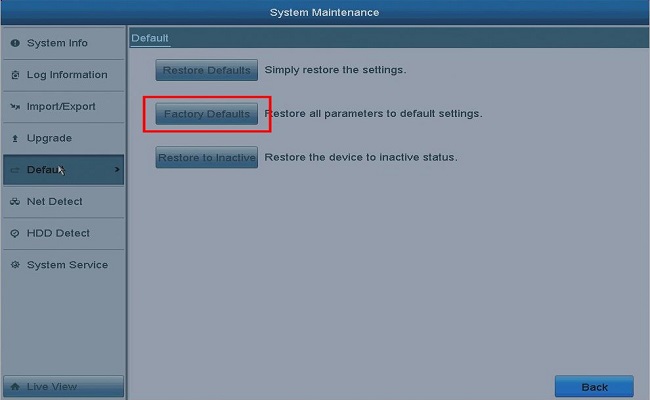 Solution 4:
Connect the system to another router if you have one.
If the screen on your ANNKE system doesn't look like the above pictures, please refer to the below links:
Annke Vision - What to Do If P2P Status Shows Offline? (S500 series)
Annke Vision - What to Do If The NVR(H800) Is Offline?
In case you are accessing the ANNKE system on a computer browser, refer to this video to make the system online:
Notice:
If you have any other questions, please contact ANNKE technical support at support@annke.com by email.
If this article is helpful to you, please click the "helpful" button after you review it. Any comments would be appreciated.