In photography, zooming plays a significant role in capturing highly efficient videos and unforeseeable images. As far as digital zoom and optical zoom are concerned, these are two aspects that are related to the overall distance of the images. If you are unaware of these terms, don't worry, this article will cover the fundamental differences between the two and answer other related questions.
Digital zoom: Digital zoom is more about adjusting an image in the camera. It eliminates unnecessary side frames and outside edges of a picture.
Optical zoom: Optical zoom establishes the physical change needed in a lens to balance the level of distance maintained between the camera sensor and the subject of the image.
Video to understand digital and optical zoom
Watch this clip to have a firm understanding of the mechanics of digital zoom and optical zoom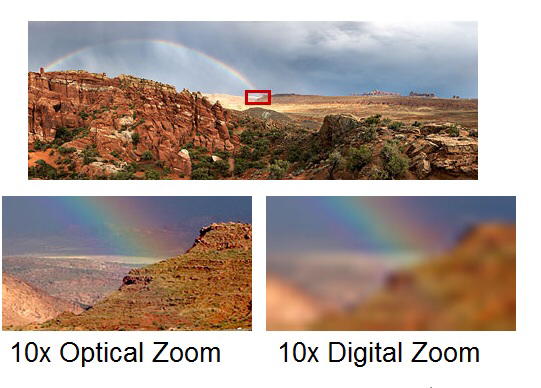 Main differences between digital zoom and optical zoom
Digital zoom is a function of both digital and film cameras, which allows in zooming into an image to its maximum capacity. Photographers may have to move in closer distance to get maximized photo results. However, in the optical zoom, the photographers can take pictures from a far distance and get maximized results.
A captured image is cropped to a central area in digital zoom, interpolating the back to the original quality of the image. In optical zoom, the quality of pixels is not damaged. A captured picture that is zoomed into will have better quality, high resolution, and increased sharpness.
Digital zoom focuses more on taking discreet images; an example would be, capturing individual formal images where careful attention is given to the subject of the image. Optical zoom can be used for many other purposes, like capturing images of nature without compromising the overall quality, resolution, and sharpness of the image.
Which one should I select?
Consider the following factors before selecting digital zoom or optical zoom images.
Purpose: For discreet purposes, digital zoom and optical zoom can be used for almost any purpose.
Focal length: a long focal length leads to a narrowed view of the image; optical zoom lenses have a less focal length which means wider images can be captured.
Zooming capacity: Both can zoom in significantly well, but if you don't want clarity of the image to be comprised, then optical zoom is the right choice.