It can be confusing to understand the technical, functionality, and purpose of cameras. PoE, sPoE and XPoE are types of cameras that allow the system to pass power and data over your Ethernet cable. If you are concerned about running multiple cables to your camera, don't be as POE (Power over Ethernet) technology greatly reduces this problem. Let's take a look at the types of POE cameras and their main differences.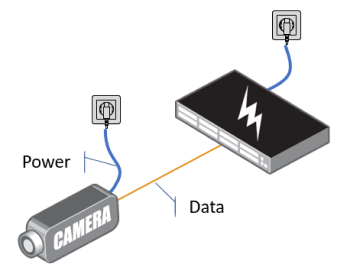 What is PoE?
Power over Ethernet can be defined as a process that uses wires built into an ethernet cable to run electricity as an addition to networking data. PoE eliminates the need of using multiple cables as you can now connect your devices or cameras to a network using a single ethernet cable.
PoE cameras are known for their flexibility; users can make most of this effective solution by installing them in the desired location instead of areas where supply is suitable. Moreover, it has a high data speed that boosts the downloading and uploading process.
What is sPoE?
sPoE stands for simplified power over Ethernet; this solution is easier to install and more affordable; these two factors separate it from other cameras. sPoE cameras remove the need for qualified technicians for the installation process because it is much easier and can be done in less than 15 minutes.
Moreover, power cables and power adapters in sPoE cameras don't need maintenance; Hence costs are significantly reduced.
What is XPoE?
XPoE is a new technology that is based on ethernet cable to supply power and to transfer videos and is mostly used as a security camera. XPoE is more of a cost-effective solution as it does not demand high-quality ethernet cables like PoE and the transmission rate is much higher than PoE. Its main advantage is that it has no latency (unnecessary delays and interruptions).
Moreover, it provides heat protection and prevents damages from surge voltages due to its anti-surge protection design. So, before a threatening situation takes place, the admin of the camera will be notified well in advance.
Conclusion
PoE, sPoE and XPoE cameras offer a wide range of benefits; however, sPoE is more of a preferred solution due to its increased reliability and accessibility. XPoE is comparatively new, and it can fulfill various requirements for security or other purposes. All of them are benefiting in some way or another, so before purchasing, identify your specific requirements.