Applies to: N48PAW/N46PCK/H800
Introduction:
When the user wants to reconfigure the NVR, a factory reset is a good choice. You could refer to this article to find detailed instructions.
Steps:
1. Access the system menu on the monitor and go to 'Maintenance'.
2. Select 'Factory Defaults'.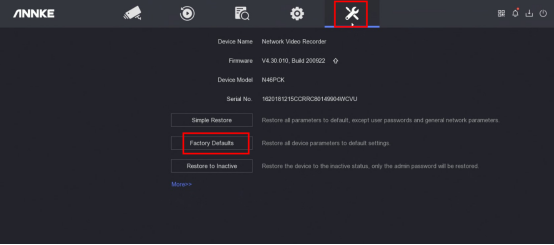 3. The NVR will reboot after the factory reset and needs to be activated again.
Note:
Please make sure the new password is the same as the old password, otherwise, the cameras will not work with the NVR.
If you have any other questions, please contact ANNKE technical support at support@annke.com by email.
If this article is helpful to you, please click the "helpful" button after you review it. Any comments would be appreciated.