Applies to: DT41Y/DT61Y/DT81Y/DN41R/DN61R/DN81R/DT41GB/DT81GB/DT61GB/DW41JD/DW81KD/DW61LD/DT81DP/N48PI/N44PI/N46PI/N44PAM/N48PAW/N46PCK/N88PCH/S500/S300/FC200/NCK800/H800/H500
Introduction:
The Guarding Vision enables the user to configure the device directly. You may refer to this article to find detailed instructions.
Steps:
1. Connect the device to the Guarding Vision via the device's IP address.
Annke Vision - Access the DVR/NVR System via Guarding Vision Software on PC (Via IP Address)
2. Go to 'Device Management' and click 'Remote Configuration'.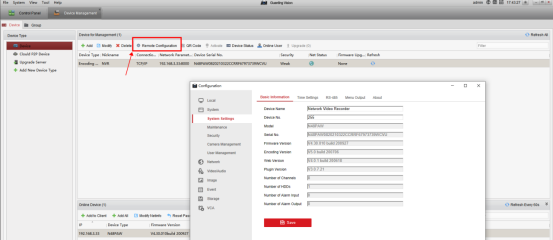 If you have any other questions, please contact ANNKE technical support at support@annke.com by email.
If this article is helpful to you, please click the "helpful" button after you review it. Any comments would be appreciated.