Applies to: DT41Y/DT61Y/DT81Y/DN41R/DN61R/DN81R/DT41GB/DT81GB/DT61GB/DT41DB/DT81DB/DT61EQ/DW41JD/DW81KD/DW61LD/DT81DP/N48PI/N44PI/N46PI/N44PAM/N48PAW/N46PCK/N88PCH/N441Y/N481Y/I21AE/I21AF/I41DQ/I61DQ/I61DR/I61DS/S500/S300/FC200/NCK800/H800/H500/C800/C500/B1200/NC400/ CZ500/ CZ400
Purpose: Hardware Decoding can provide better decoding performance and lower CPU usage when playing the HD videos during live view or playback.
Before you start:
Steps:

1. Enter the Settings Page,
Tap

to disable or Tap

to enable decoding by hardware for live view and playback.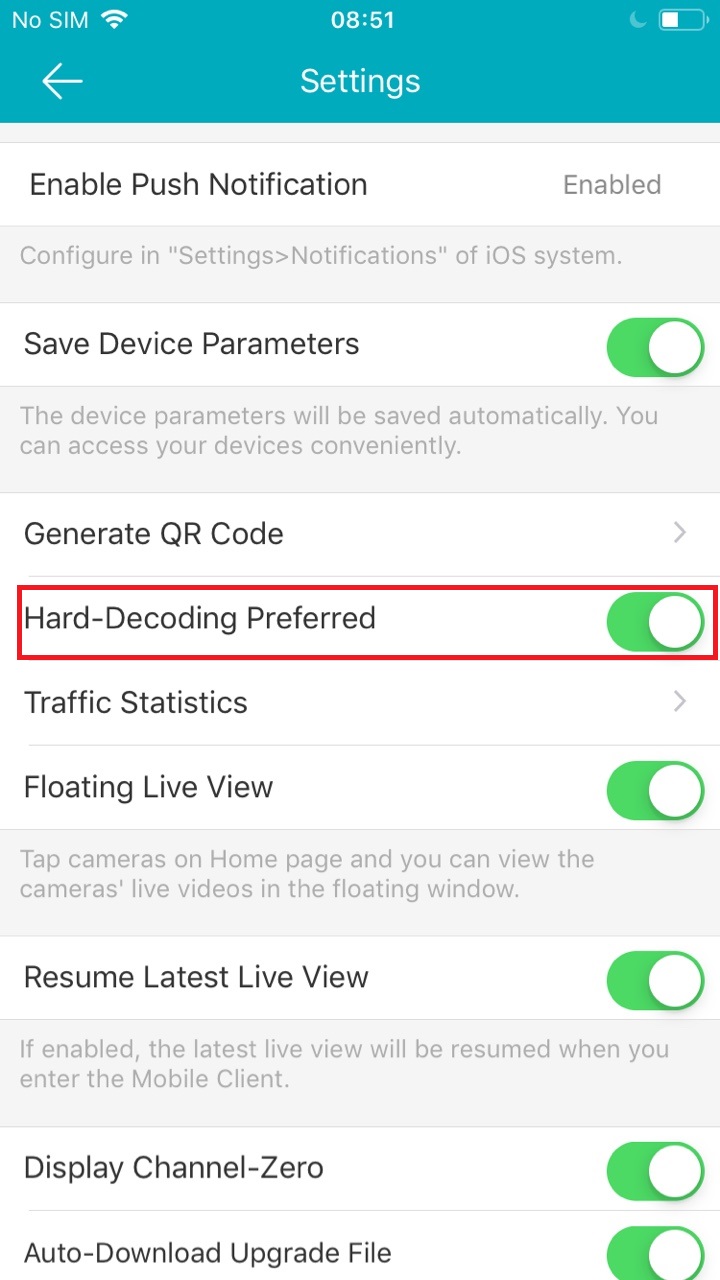 Notes:
The Hardware Decoding requires Android 4.1 or higher version; otherwise, this option will not be shown.

For hardware decoding, it supports resolutions of 704*576, 704*480, 640*480, 1024*768, 1280*720, 1280*960, 1920*1080, 2048*1536, and 2560*1920. For other resolutions, it will switch to software decoding.

For H.265 video compression, the hardware decoding is not supported.

The hardware decoding function should be supported by the device. If not, it will adopt software decoding by default.

The hardware decoding is determined by the phone hardware performance. The following table shows the phone models which perform well in our test.
| | | | |
| --- | --- | --- | --- |
| Phone Model | Version | CPU | GPU |
| Samsung GT-I9300 | 4.3 | Exynos 4412 | Mali-400MP |
| Galaxy S5 | 4.4 | Snapdragon 801 | Adreno 330 |
| Galaxy S6 | 5.1.1 | Exynos 7420 | Mail-T760 |
| Galaxy S5 | 5 | Snapdragon 801 | Adreno 330 |
| Note3 | 4.3 | Snapdragon 800(MSM8974) | Adreno 330 |
| Note4 | 4.4 | Snapdragon 805 | Adreno 420 |
| Nexus 5 | 4.4 | Snapdragon 800(MSM8974) | Adreno 330 |
| Nexus 6 | 5 | Snapdragon 805(APQ8084AB) | Adreno 420 |
| Nexus 6P | 6 | Snapdragon 810 | Adreno 430 |
| Nexus 7 | 4.4 | NVIDIA Tegra 3 | |
| Nexus 9 | 5 | NVIDIA Tegra K1 | |
| MotoX Pro | 5.0.1 | Snapdragon 805 | Adreno 420 |
| HUAWEI C199 | 4.4.2 | Snapdragon MSM8928 | Adreno 305 |
| HUAWEI H30-T10 | 4.4.2 | MT 6582 | Mail-400MP |
| HUAWEI Honor 6 | 4.4.2 | Hisilicon Kirin928 | Mail-T628MP4 |
| HUAWEI Mate7 | 4.4.2 | Hisilicon Kirin925 | Mali-T628 MP4 |