If you have installed security cameras outside your home, you must have seen spiders spinning cobwebs around the lenses of your cameras.
However, spiders don't really love the cameras but love the bugs attracted towards your cameras due to the infrared light coming out of the camera. It is a major issue for house owners because spider webs block the visibility of the camera. It can also create false alerts for cameras having motion sensors.
Suppose you are working with a quality security vendor offering professional monitoring. In that case, your security team will surely alert you regarding the blockage, or they may send a person to clean up the webs on your cameras.
However, if you have installed the security system yourself, it is essential to check your setup regularly and perform maintenance frequently.
So, what should you do to avoid spider webs, bugs, and insects disturbing the outdoor security cameras? Read some expert tips:
Tips to Keep Your Security Cameras Free From Bugs:
Numerous ways can help you keep away spider webs, bugs, and insects from your security cameras. Here are some helpful tips:
Applying Lubricants
You can cover the body and surrounding area of your security camera with the help of any lubricant such as silicon, Teflon spray, or Vaseline. However, you need to ensure that you have covered the lens with a paper towel before putting on a thin layer of lubricant on your camera. The camera will become too slick for the spiders to spin webs on.
Disabling the LED Lights
Bugs mostly gather around the security cameras due to the LED lighting around the lens. You can turn the LED lights off if your camera allows it.
Attaching a Dryer Sheet
You can use a rubber band for attaching a dryer sheet on the outer side of your camera. The strong smell of the dryer sheet will keep all the bugs away from the camera.
Spraying Bug Repellent
You can use a bug spray or insecticide on the protective housing of your camera to keep all the bugs and insects away from your camera.
Sweeping Camera Areas Regularly
You can clean the exterior of your security camera every week with the help of a soft-bristled brush to remove any webs and bugs around the camera.
Using a Fan
You can install a low-price computer fan near your security cameras to keep spiders and other bugs away.
All of these tips are not automated solutions to keep bugs away from your security cameras. You can repeat these tips several times to see results. However, you need to be very careful about young children and pets while spraying pesticides and ensuring that your cameras have protective housing before applying any lubricants or chemicals.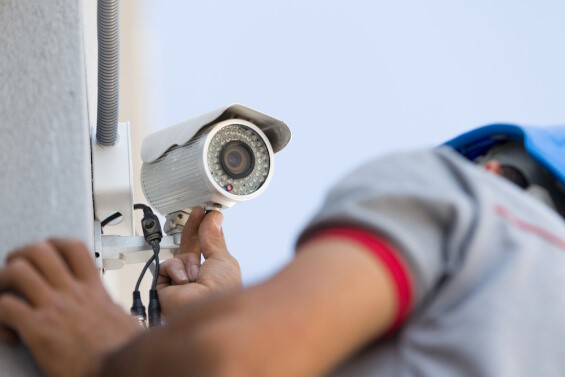 Configure the Sensors Properly
To keep the bugs away from your cameras, you can adjust the motion detection alert settings for your camera. Adjust the threshold of activity to avoid any false alarms. In this way, you won't get an alarm every time a spider or any other insect comes near your device.
If possible, enable the intrusion mode on your camera or configure the settings only to get notifications when something specific in size comes in view of your camera for the specified time.