A few years back, viewing surveillance systems was tough, but now, with the recent advancements, users can now view their cameras' live activity from any corner of the world with the help of a device and a stable connection. Let's take a closer look at P2P and its application to security cameras.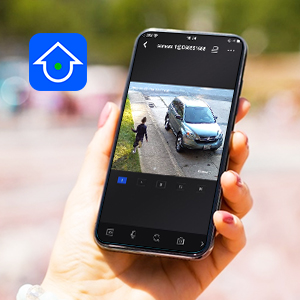 What is P2P?
Peer-to-peer or cloud connection is a procedure that allows users of cameras and other surveillance devices to connect to a camera application on a mobile phone. Before, it was very difficult to manage the configuration process, but now it is much easier to access the technical side.
In order to view camera recordings remotely, a user will have to enable a P2P connection and scan a QR code from the surveillance system or note down a unique code. After enabling P2P, the network video recorder (NVR) will establish a connection on a cloud-based server.
Once the connection is established, your camera system will have remote access using the P2P app. Users can stream and view live recordings with ease. This is a very safe way to have access to your security systems but do remember that confidential information like a serial number of the camera user id, password, or other remote viewing information should be kept safe at all times.
Advantages of using P2P
Reduced costs: P2P eliminates the need of purchasing a separate computer for a server.
Reliability: It is safer, and the p2p networks can be used and extended to include new clients in a shorter duration than other methods. In case if the central server crashes, a P2P connection will still operate and remain functional to users.
Easier to share files: A P2P advanced network can easily share files over long distances in a very short amount of time. Thus, user convenience is increased.
Easy video playback: P2P ensures that users don't miss any important details by storing clips and recordings in a database.
Use multiple devices simultaneously: P2P enables live viewing for multiple devices; this factor strengthens security since multiple viewers have live access.