Applies to: DT41Y/DT61Y/DT81Y/DN41R/DN61R/DN81R/DT41GB//DT81GB/DT61GB/DT41DB/DT81DB/DT61EQ/DW41JD/DW81KD/DW61LD/DT81DP/S500/S300/FC200
Purpose: You can set up video parameters on Annke DVR.


Before you start:

You have logged in to your DVR.
Click Menu > Camera management > Image > Image Settings
Interface: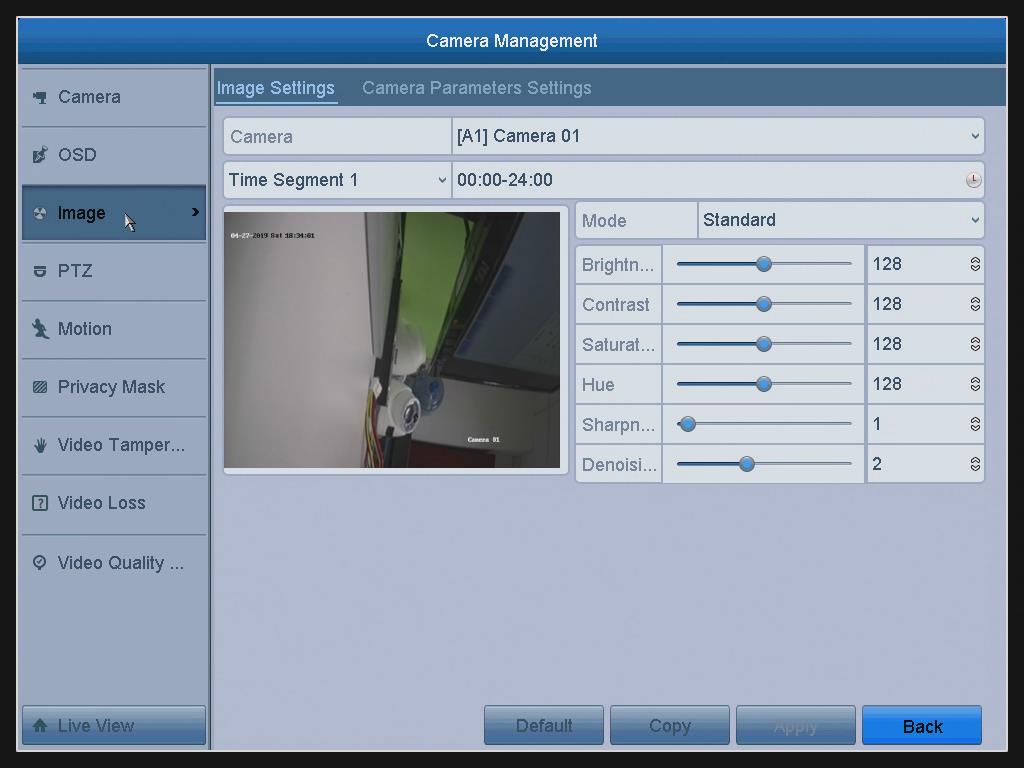 Camera: Select the camera to set image parameters.
Time Segment 1: Select the period name in the dropdown list. Two periods for different image settings are provided.
Mode: Select the mode from the drop-down list of Mode.
There are four modes selectable: Standard, Indoor, Dim Light and Outdoor.
Adjust the image parameters according to actual needs.
Such as Brightness, Contrast, Saturation, Hue, Sharpness, and Denoising.


Default: Click it and all the parameters can be set to be the default settings.
Copy: Click it to copy the same parameters to other channels.
Apply: Click it to save the settings.

Notes:
On the Time Segment 1 option: the time periods cannot be overlapped with each other.
After Adjust the image parameter, you can see the image effect on the left preview window.