Applies to: I41EJ
Purpose: Learn about the system settings of the Myannke PC Client.
Before you start:
You have succeeded added the device.
Interface: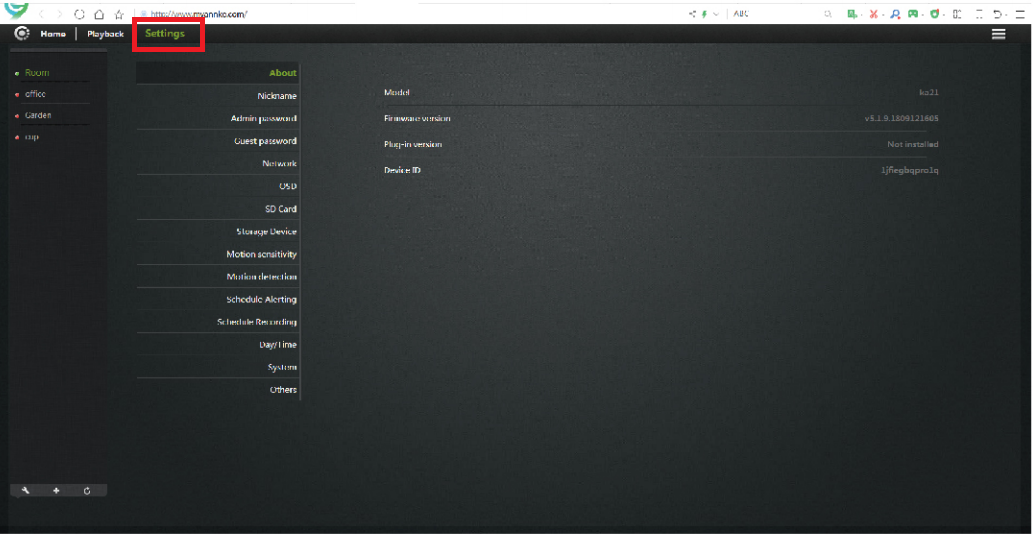 About: Provides information about your device.
Nickname: Set a user-friendly name for your device.
Admin Password: Change the Admin password for the device.
Guest Password: Create a Guest password for the device.
Network: Configure network settings.
OSD (On Screen Display): Modify the on-screen display settings.
SD Card: Enable the use of an SD Card. You can also format and unmount the SD Card.
Storage Device: Enable a Myannke Cloud Box for additional storage, then enter the device ID and password.
Motion sensitivity: Quickly select to turn "alarm" on or off.
Motion detection: Detect moving objects.
Schedule Alerting: Set the camera alarm when motion is detected in the covered area.
Schedule Recording: Schedule times when you want the camera to record.
Date/Time: Set the date and time for the device.
System: Set System options such as restoring to factory settings, restarting, etc.
Others: Miscellaneous options such as flipping the camera view, adjusting the audio, etc.