Applies to:
DT41Y/DT61Y/DT81Y/DN41R/DN61R/DN81R/DT41GB/DT81GB/DT41DB/DT61EQ/DW81KD/DW61LD/DT81DP/N48PI/N46PI/N44PI/N44PAM/N48PAW/N46PCK/N88PCH/N441Y/N481Y/I21AE/I21AF/I41DQ/I61DQ/I61DR/I61DS/I41HG/I41CS/S500/S300/FC200/NCK800/H800/H500/FC800/E800
Purpose:
After adding the device via IP/Domain, you can set the parameters of the device including basic information, time settings, recording schedule, etc.
Note: The remote configuration requires the Android 4.2 or higher version.
On the Device Information page, tap

and tap Remote Configuration.
The Remote Configuration page is shown as follows.
Note: The configurable parameters in Remote Configuration vary according to the device type.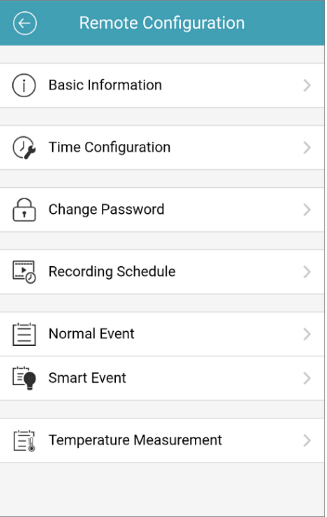 Refer to the following table to view the description of the remote configuration.
Icon
Name

Description

Basic Information

View basic information of the device such as device name, device No., model, serial No., etc.

Time Configuration

Select the time zone and set the time synchronization mode.

Change Password

Change the password of the device.

Recording Schedule

Set the recording schedule for the channels of the device.

Normal Event

Enable normal events such as motion detection, video loss, video tampering detection, etc.

Smart Event

Enable smart event such as audio exception detection, face detection, line crossing detection, etc.

Temperature Measurement

Enable the temperature measurement function for the thermal camera.
Note: This function is only available to the thermal camera.