Applies to: DT41Y/DT61Y/DT81Y/DN41R/DN61R/DN81R/DT41GB/DT81GB/DT61GB/DT41DB/DT81DB/DT61EQ/DW41JD/DW81KD/DW61LD/DT81DP/S500/S300/FC200
Purpose: You can set up record encode parameters on Annke DVR.
Before you start:
Make sure that the HDD has already been installed.
If not, please install an HDD and initialize it. (How to Initialize HDD)
Click

Menu > HDD > Advanced

to check the storage mode of the HDD.
Whether the

HDD mode is

Quota, please set the maximum record capacity.
If the

HDD mode is

Group, you should

set the HDD group
Steps:
1. Click Menu>Record>Parameters. Select the Record.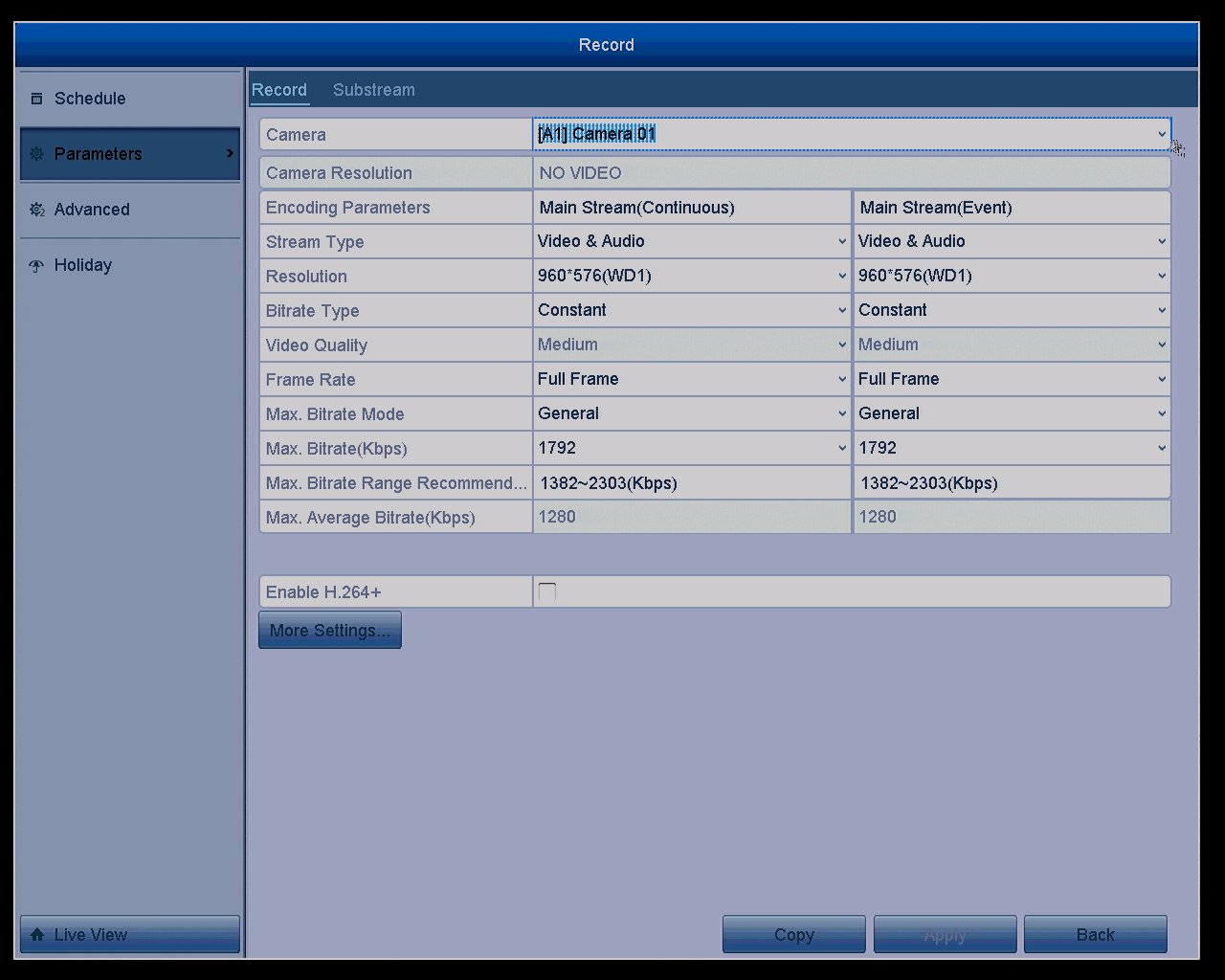 2. Select a camera in the Camera dropdown list.

3. Configure the following parameters for the Main Stream (Continuous) and the Main Stream
(Event).
| | |
| --- | --- |
| Option | Description |
| Stream Type | Set the stream type to be Video or Video & Audio. |
| Resolution | Set recording at resolution. |
| Bitrate Type | Set the bitrate type to be Variable or Constant. |
| Video Quality | Set the video quality of the recording, with 6 levels configurable. |
| Frame Rate | Set the frame rate of recording. |
| Max. Bitrate Mode | Set the mode to General or Customize (32-3072Kbps). |
| Max Bitrate (Kbps) | Select or customize the maximum bit rate for recording. |
| Max. Bitrate Range Recommended | A recommended max. bitrate range is provided for reference. |
| Max. Average Bitrate (Kbps): | Set the max. average bitrate which refers to the average amount of data transferred per unit of time. |
Notes:
The Stream Type, Resolution, Bitrate Type and Video Quality are not configurable for the Main Stream(Event) of the IP Camera.
The resolution of 960*1080 (1080P Lite) is available when the 1080P Lite is enabled in the Record>Advanced settings interface (refer to Chapter5.11 Configuring 1080P Lite).
4. Check the checkbox of Enable H.264+ to enable this function: Enabling it helps to ensure the high video quality with a lowered bitrate.
Notes:
After enabling the H.264+, Max. Bitrate Mode, Max. Bitrate(Kbps) and Max. Bitrate Range Recommend is not configurable.
The H.264+ can not be used with the SVC at the same time.
For the connected IP camera, the H.264+ should be supported by the camera and added to the DVR with the HIKVISION protocol.
You should reboot the device to activate the new settings after enabling the H.264+.
5. Click More Settings to configure more parameters.
6. Click Apply to save the settings.
7. You can click Copy to copy the settings to other analog channels if needed(Optional).

Notes:
You can copy the same settings to the cameras with the same signal, e.g., the channel No. 1-3 connect to the TVI cameras, and the channel No.4 connects to an analog camera, and then the settings of channel No. 1 can be only copied to channel 2 and 3
Then you can continue to set up substream encode parameters.