Apply to:
I91BK/I81HB/I51DD/I51DL/I51DN/I51DP/I91BF/I91BG/I91BM/I91BN/I91BL/I91BQ/I41BK
Introduction:
If the SD card is not set to overwrite the old files, the recordings can no longer be saved after the SD card is full. Therefore, it is suggested to enable 'Overwrite'. You may refer to this article to set the overwrite function for the SD card on the web browser.
Steps:
1. Please access the setting menu of the camera on the web browser from the PC. The link below has the detailed introductions.
https://help.annke.com/hc/en-us/articles/900003867006
2. Please go to 'Configurations→Storage→Schedule Settings→Advanced'.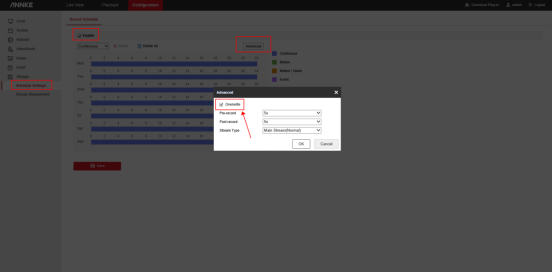 Notice:
For any other questions, please feel free to contact ANNKE technical support at support@annke.com by email.
If this article is helpful to you, please click the "helpful" button after you review it. Any comments would be appreciated.