Applies to: DT41Y/DT61Y/DT81Y/DN41R/DN61R/DN81R/DT41GB/DT81GB/DT61GB/DT41DB/DT81DB/DT61EQ/DW41JD/DW81KD/DW61LD/DT81DP/S500/S300/FC200
Purpose: You can set up substream encode parameters on Annke DVR.
Before you start:
Make sure that the HDD has already been installed.
If not, please install an HDD and initialize it. (How to Initialize HDD)
Click Menu > HDD > Advanced to check the storage mode of the HDD.
Whether the HDD mode is Quota, please set the maximum record capacity.
If the HDD mode is Group, you should set the HDD group.
Steps:
1. Click Menu>Record>Parameters. Select the Substream.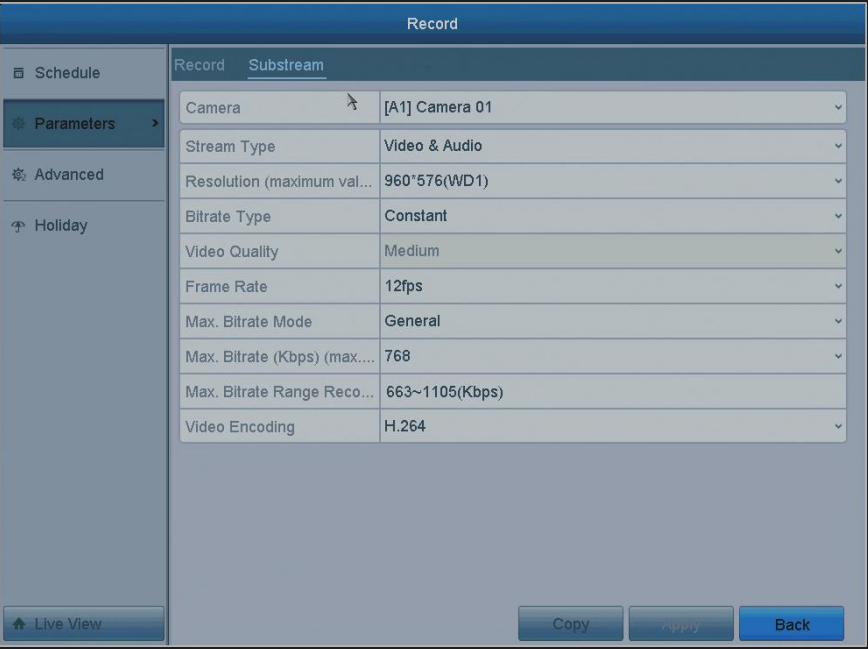 2. Select a camera in the Camera drop-down list.
3. Configure the parameters.
| | |
| --- | --- |
| Option | Description |
| Stream Type | Set the stream type to be Video or Video & Audio. |
| Resolution | Set recording at resolution. |
| Bitrate Type | Set the bitrate type to be Variable or Constant. |
| Video Quality | Set the video quality of the recording, with 6 levels configurable. |
| Frame Rate | Set the frame rate of recording. |
| Max. Bitrate Mode | Set the mode to General or Customize (32-3072Kbps). |
| Max Bitrate (Kbps) | Select or customize the maximum bit rate for recording. |
| Max. Bitrate Range Recommended | A recommended max. bitrate range is provided for reference. |
| Video Encoding | Select the video encoding type you want. |
Note: The Stream Type, Resolution, Bitrate Type and Video Quality are not configurable for the Main Stream(Event) of the IP Camera.
4. Click Apply to save the settings.
Note: If the parameters can also be used to other cameras, click Copy to copy the settings to other channels.