Applies to: DT41Y/DT61Y/DT81Y/DT41GB/DT81GB/DT61GB/DT41DB/DT81DB/DT61EQ/DT81DP/N48PI/N44PI/N46PI/N44PAM/N48PAW/N46PCK/N88PCH/S500/S300/FC200/NCK800/H800/H500
The DVR/NVR may also be controlled by the included IR remote control: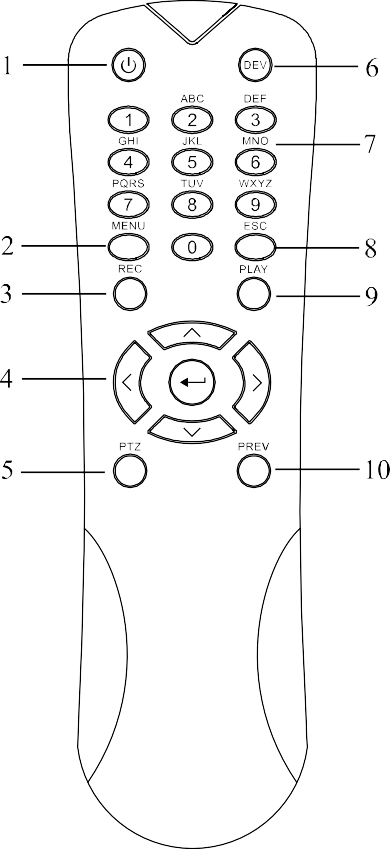 The keys on the remote control closely resemble the ones found on the front panel, they
include:
No.

Name

Description

1

POWER

Power on/off the device by pressing and holding the button for 3 seconds.

2

MENU Button

Press the button to return to the main menu (after successful login).

Press and hold the button for 5 seconds will turn off the audible key beep.
In the PTZ Control mode, the MENU button will start wiper (if applicable).
In Playback mode, it is used to show/hide the control interface.

3

REC Button

Enter the Manual Record-setting menu.

In PTZ control settings, press the button and then you can call a PTZ preset by pressing the Numeric button.

It is also used to turn audio on/off in the Playback mode.

4

DIRECTION Button

Navigate between different fields and items in menus.

In the Playback mode, the Up and Down button is used to speed up and slow down recorded video. The Left and Right button will select the next and previous record files.

In Live View mode, these buttons can be used to cycle through channels.

In the PTZ control mode, it can control the movement of the PTZ camera.

ENTER Button

Confirm selection in any of the menu modes.

It can also be used to tick checkbox fields.

In Playback mode, it can be used to play or pause the video.

In single-frame Playback mode, pressing the button will advance the video by a single frame.

5

PTZ Button

In Auto-switch mode, it can be used to stop /start the auto switch.

6

DEV

Enables/Disables Remote Control.

7

Alphanumeric Buttons

Switch to the corresponding channel in Live view or PTZ Control mode.

Input numbers and characters in Edit mode.

Switch between different channels in the Playback mode.

8

ESC Button

Back to the previous menu.

Press for Arming/disarming the device in Live View mode.

9

PLAY Button

The button is used to enter the All-day Playback mode.

It is also used to auto scan in the PTZ Control menu.

10

PREV Button

Switch between single screen and multi-screen mode.

In PTZ Control mode, it is used to adjust the focus in conjunction with the A/FOCUS+ button.