Applies to: DT41Y/DT61Y/DT81Y/DN41R/DN61R/DN81R/DT41GB//DT81GB/DT61GB/DT41DB/DT81DB/DT61EQ/DW41JD/DW81KD/DW61LD/DT81DP/N48PI/N44PI/N46PI/N44PAM/N48PAW/N46PCK/N88PCH/N441Y/N481Y/S500/S300/FC200/NCK800/H800/H500
Purpose:
You can group the HDDs and save the record files in certain HDD group.
Multiple HDDs can be managed in groups. Video from specific channels can be recorded onto a particular HDD group through HDD settings.
Before you start:

You should log in to your DVR/NVR account before setting up the HDD Group.
Click Menu>HDD>Advanced
Interface: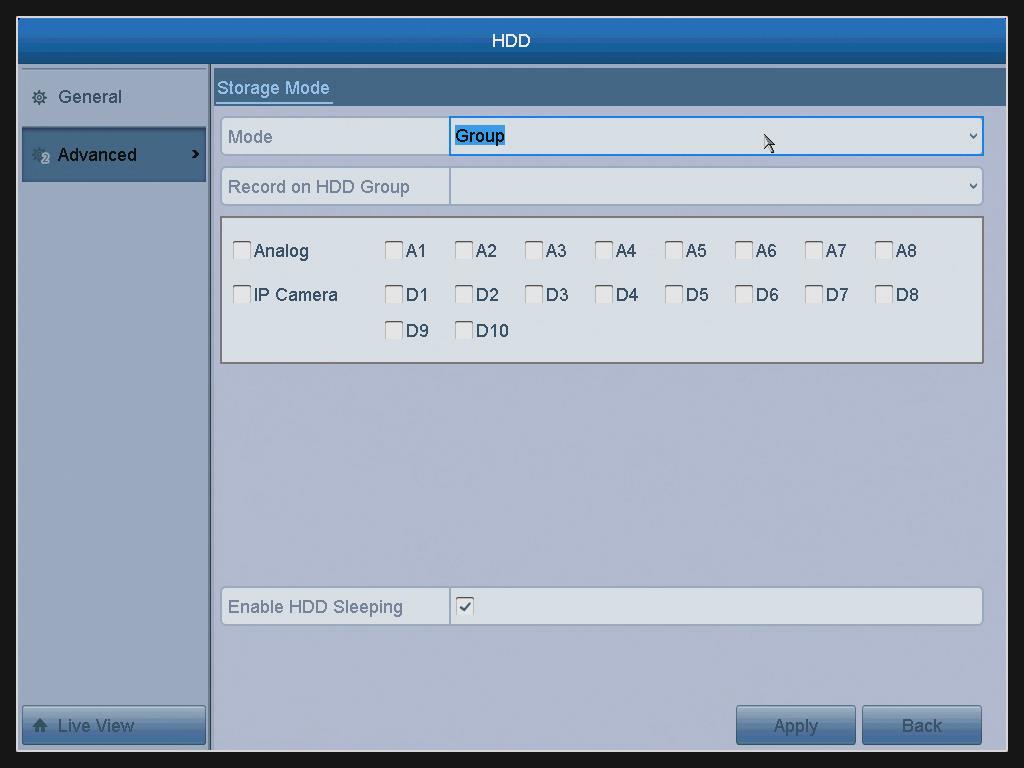 Mode: Select the Group.
Record on HDD Group: Choose the Group you want to record.
Analog: Choose the cameras you want, to set up a group.
IP camera: Choose the IP cameras you want, to set up a group.
Enable HDD Sleeping: Tick the checkbox to enable the function to protect HDDs use life.
Apply: Click the Apply button to apply the settings.
Back: Back to the previous page.

Note: After click the Apply button and the following Attention box will pop up, click Yes to reboot.