Applies to:
DT41Y/DT61Y/DT81Y/DN41R/DN61R/DN81R/DT41GB/DT81GB/DT61GB/DW41JD/DW81KD/DW61LD/DT81DP/N48PI/N44PI/N46PI/N44PAM/N48PAW/N46PCK/N88PCH/S500/S300/FC200/NCK800/H800/H500
Purpose:
This article introduces causes and solutions when the ANNKE camera fails to show an image.
Cause #1: Settings mistake on software.
A wrong setting of the ANNKE software can lead to failure on the camera image.
Solution:
If your camera used to work, please redo the change of settings done recently.
In case you couldn't remember which setting has been changed, a Factory Reset on the ANNKE device can be considered.
(Below picture shows the Live View setting on ANNKE system)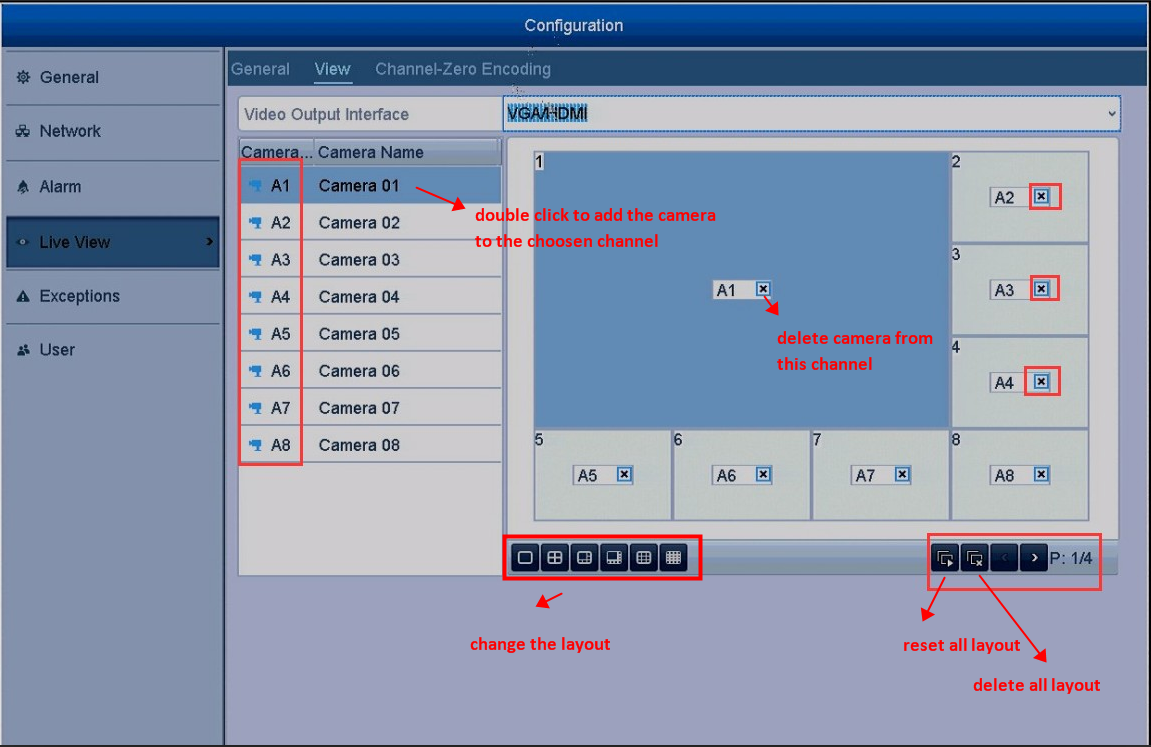 Cause #2: Bad connection on the camera.
A wrong connection or a loose connection will cause this problem.
Solution:
For the analog camera system, refer to the connection topology, check if the camera is connected correctly in the security camera system. If yes, unplug the cables and plug them back in to make sure the connections are secure.
(Below picture shows the connection topology of a DVR system)


Cause #3: Faulty part(s) on the camera connection.
Any faulty part(s) on the camera connection can cause this problem.
Solution:
Doing a swap test on the part to locate the faulty part(s).
Take the analog camera system as an example, you can replace the below part for the problematic camera once at a time:
- The BNC cable
- The channel port of the DVR
- The multi-way splitter cable
- The power supply for the camera
(Below picture shows the testing groups when doing a swap test)

If the cause cannot be confirmed after following the above, please contact ANNKE tech support for further assistance.
If you find this article helpful, please click 'Yes' at the end of this article;
If you have any suggestions or questions for this article, please leave a comment in the below comment zone.