Applies to: N48PI/N44PI/N46PI/N44PAM/N48PAW/N46PCK/N88PCH/DT41Y/DT61Y/DT81Y/DN41R/DN61R/DN81R/DT41GB/DT81GB/DT61GB/DT41DB/DT81DB/DT61EQ/DW41JD/DW81KD/DW61LD/DT81DP/S500/S300/FC200/NCK800/H800/H500
Introduction: The smart playback provides an easy way to get through the less effective information. The system will analyze the video containing the motion or VCA information, mark it with green color and play it in the normal speed while the video without motion will be played in the 16-time speed.

Before you start:
To get the smart search result, the corresponding event type must be enabled and configured on the IP camera. Here we take the intrusion detection as an example.
Log in the IP camera by the web browser, and enable the intrusion detection by checking the checkbox of it.
You may enter the motion detection configuration interface by Configuration > Advanced Configuration >Events > Intrusion Detection.
Configure the required parameters of intrusion detection, including area, arming schedule, and linkage methods.
Steps:
Click Menu > Playback, enter Playback interface, select the Smart Mode on the left-top of the interface.
Select a camera in the camera list and select a date in the calendar.


Edit the smart search areas and rules.
1) Click the button to enter the search area editing interface, the smart search area is set as full screen by default.

2) Set the rules and areas.
Line Crossing: Click the button, and click to specify 2 points to set a line for line crossing.



Note: Only one line can be set.

Intrusion Detection: Click the button, and then specify 4 points to set a quadrilateral region for intrusion detection.



Note: Only one region can be set.

Motion detection:

Click the to set the search area manually.
Click and drag the mouse to draw target searching area(s), or click the button to set the full screen as the area.
3) Click the

to search, and then the result will be displayed as

in the progress bar of the Smart Playback interface or you can click the

button to clear all the set areas.

4. Then the Smart Search Result will appear.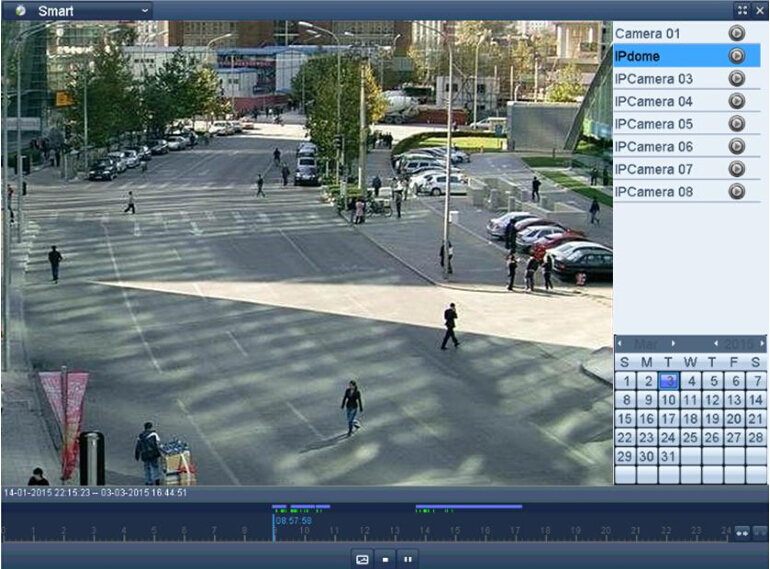 Note: Playback progress bar: use the mouse to click any point of the progress bar to locate specific frames.