Applies to: DT41Y/DT61Y/DT81Y/DN41R/DN61R/DN81R/DT41GB/DT81GB/DT61GB/DW41JD/DW81KD/DW61LD/DT81DP/N48PI/N44PI/N46PI/N44PAM/N48PAW/N46PCK/N88PCH/S500/S300/FC200/NCK800/H800/H500/FC800/E800
1. Please use a computer to download the firmware file. You can send an email to support@annke.com to get the download link of the new firmware file. But please tell us your system's model number. It is made up of numbers and letters such as N44PI. You can find it at the bottom of the recorder. It is not SN like SZ20150427.
Note:
1). If the file name is ended with.DAV, it cannot be opened by any software on the computer. Please put it to the root folder of your USB stick drive directly.
2). If the file name is ended with.ZIP, please unzip it via your computer software (such as WINRAR) at first, then copy the.DAV file to the root folder of your memory stick.
3). The USB stick drive must be FAT32 format.
2. Copy the file to an USB stick drive.
3. Connect the memory stick to the USB port of NVR or DVR.
4. Go to Menu---Maintenance---System---Upgrade. Check if it can find the firmware file in a memory stick.
select the file and click upgrade.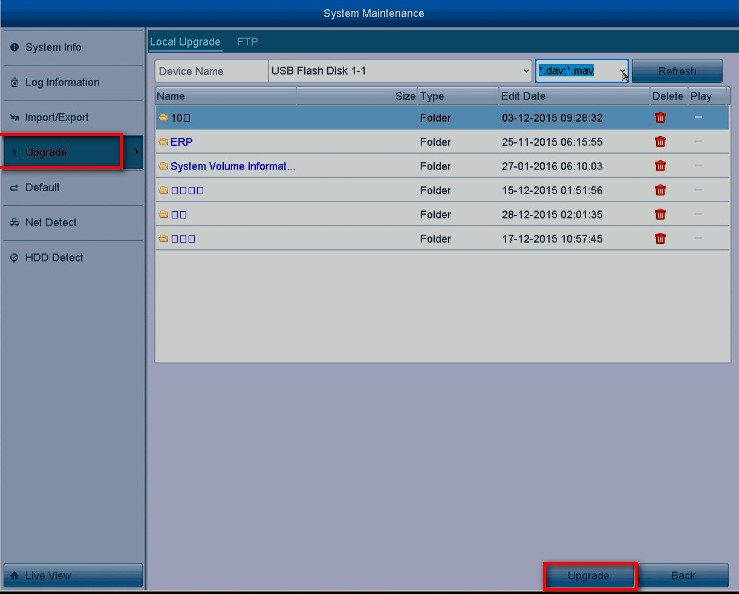 If this article is helpful to you, please click the "helpful" button after you review it. Any comments would be appreciated.