Applies to: DT41Y/DT61Y/DT81Y/DN41R/DN61R/DN81R/DT41GB/DT81GB/DT61GB/DW41JD/DW81KD/DW61LD/DT81DP/N48PI/N44PI/N46PI/N44PAM/N48PAW/N46PCK/N88PCH/S500/S300/FC200/NCK800/H800/H500
Purpose: You can learn about the interface and icon of Annke DVR/NVR.


Before you start:

You should log in to your account.
Click Menu>Playback.
The Playback Interface as shown in the following picture: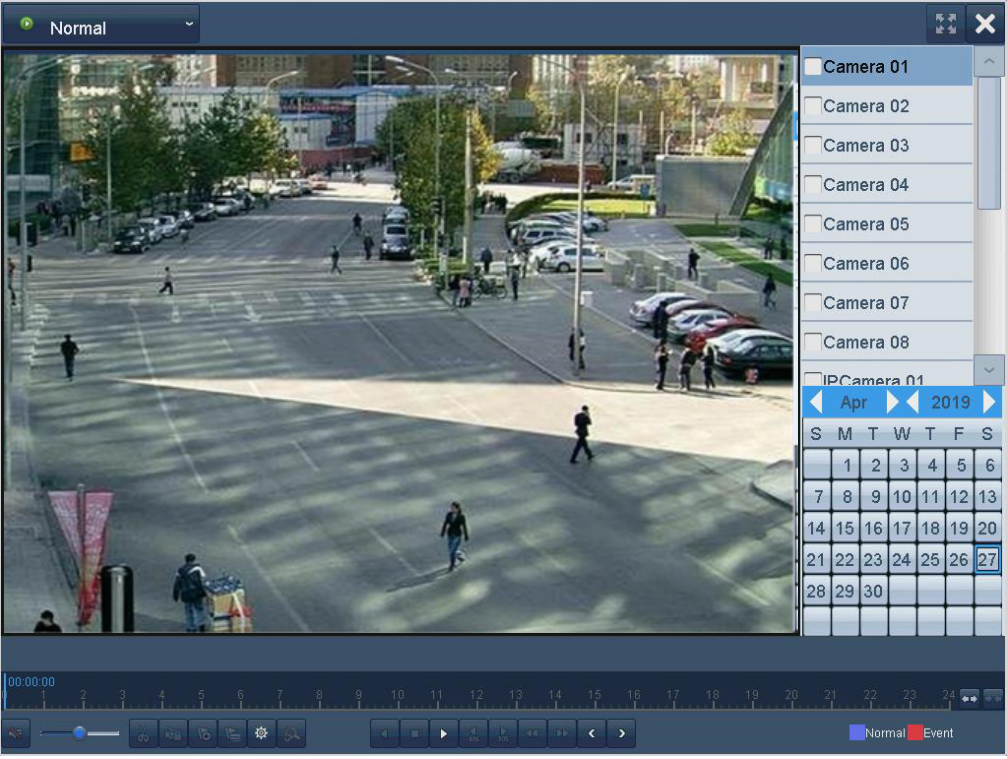 1. Choose Types of Playback: You can playback the record videos via the below types (on the left top of interface).
Normal (by time)
Smart
Sub-period


Note:

NVR does not currently support the features.
Note:
You can also Playback record file(s) associated with channels after searching
System Logs.
2. Click the channel(s) if you want to switch playback to another channel or execute simultaneous playback of multiple channels.
3. You can choose the cameras you want and select the calendar to playback.

4. The below pictures is the Playback Toolbar:


• The

indicates the start time and end time of the record files.
•

represents normal recording (manual or schedule);


represents event recording (motion, alarm, motion | alarm, motion & alarm).
• Playback progress bar: use the mouse to click any point of the progress bar to locate special frames.
5. The below figure is the detailed explanation of the Playback Toolbar:
Button
Operation
Button
Operation
Button
Operation
Start/Stop clipping
Audio on/ Mute
30s forward
30s reverse
Add default tag
Add customized tag
Tag management
Speed down
Speed up
Previous day
Next day
Full Screen
Exit
Stop
Digital Zoom
Process bar
Video type
Lock file
Pause reverse play/
Reverse play/
Single-frame
reverse play
Pause Play/ Play/
Single-frame play

Notes:

The Video Type Icon (on the left top of the interface) will change according to the type you have chosen.
Digital Zoom: Use the mouse to draw a red rectangle and the image within it will be enlarged up to 16 times.

Speed down: Use the button to change the video frame by frame to playback or reverse playback.