Applies to: N48PI/N44PI/N46PI/N44PAM/N48PAW/N46PCK/N88PCH/DT41Y/DT61Y/DT81Y/DN41R/DN61R/DN81R/DT41GB/DT81GB/DT61GB/DW41JD/DW81KD/DW61LD/DT81DP/S500/S300/FC200/NCK800/H800/H500/E500/E800
Purpose: Playback video files recorded in a specified time duration. Multi-channel simultaneous playback and channel switch are supported.
Before you start:

You should log in to DVR.
Click Menu>Playback>Normal.
Steps:
Go to the Normal Playback interface.

Check the checkbox of channel(s) in the channel list and then double-click to select a date on the calendar.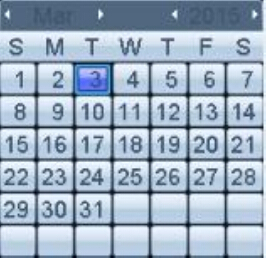 Note:
If there are record files for that camera on that day, in the calendar, the icon for that day is displayed as . Otherwise, it is displayed as .
3. Then the corresponding videos you have selected by time will playback.