Applies to: N48PI/N44PI/N46PI/N44PAM/N48PAW/N46PCK/N88PCH
Purpose: Video tag allows you to record related information like people and location of a certain time point during playback.
You are also allowed to use video tag(s) to search for record files and position time point.
Before playing back by tag:
Enter Playback interface. Menu > Playback > Normal
Search and play back the record file(s). Refer to Chapter 6.1.1 for the detailed information about searching and playback of the record files.                                         Interface of Playback by Time

Click  button to add default tag.
Click  button to add customized tag and input tag name.
Note: Up to 64 tags can be added to a single video file.

Tag management.

Click  button to check, edit and delete tag(s).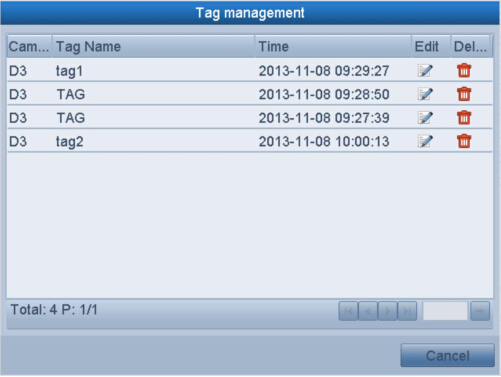 Tag Management Interface
Steps:
Select the Tag from the drop-down list in the Playback interface.
Choose channels, edit start time and end time, and then click Search to enter Search Result interface.
Click  button to play back the file. You can click the Back button to back to the search interface.
         Note:
Pre-play and post-play can be configured.                                          Interface of Playback by Tag                                          Toolbar of Playback by Tag

Button
Operation
Button
Operation
Button
Operation
/
Audio on/ Mute
/
Start/Stop clipping
30s forward
30s reverse
 
Add default tag
Add customized tag
 
Tag management
 
Speed down
 /

Pause reverse play/

Reverse play/

Single-frame

reverse play

 /

Pause play/ Play/

Single-frame play

 /

Scaling up/down the

time line

 
Speed up
 
Previous day
Next day
 
Full Screen
Exit
Stop
 
Digital Zoom
Save the clips
Process bar
Video type

                                                               Detailed Explanation of Playback-by-tag Toolbar
         Note for all:
Playback progress bar: use the mouse to click any point of the progress bar or drag the progress bar to locate special frames. 
         Note for step 2:
You can enter keyword in the textbox  to search the tag on your command.                                                Video Search by Tag